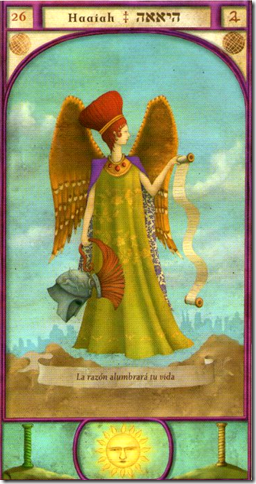 Attribute: Hidden God.
Planet: Mars.
Angelic Choir: Powers.
Sephirah: Geburah.
Regency hours: from 8:20 to 8:40
It is invoked for:
Help us win court cases.
Discovering conspiracies.
It helps us to seek the truth and leads us to contemplate divine things.
Those born under your regency:
[sociallocker id="356″]Evolved aspect: it's fair and benevolent. It likes solid affections and logical solutions. It is endowed with compassion and balance. He knows that earthly laws can and must be changed. He respects the laws of the universe and considers the word destiny as synonymous with change and renewal. He works tirelessly in search of knowledge to build his ideals. He likes to travel and easily adapts to the climate, people and language. He will have access to the highest social and governmental spheres and will be a messenger of peace, a conscious collaborator of divine providence. With a transcendental mission he will be a restorer of the divine order, a secret leader of high white magic, even without being aware of this because his spirit is ascended, it does not mean that his consciousness and body are. [/sociallocker]
Bible quote:
With all my heart I cry out to you, Lord;
answer me, and I will obey your decrees.

Psalm 119:145
HAAIAH: 'THE POWER OF HONESTY
That day in the school a lively expectation had been aroused, as the leaders who spoke were to be appointed to lead the delegations of each course.
Our protagonist, known as the "politician", young Haaiah, was on the list of candidates and had high hopes of getting the post of delegate.
In his introductory campaign, Haaiah had been very diplomatic and promised a number of improvements that would not be easily forgotten by his constituents. He was very kind in his speeches and wasted a lot of energy in convincing everyone that he was the best candidate to defend their interests before the administration, and it seems that these efforts were not entirely in vain, since the "politician" was elected by a majority to the office.
From that moment on, he must work hard not to disappoint the people who had placed their trust in him. He was convinced that he would do well and that everyone would be happy with his actions.
Trying to carry out her promise to be a fair and just delegate, responsible, a fighter to the point of exhaustion and very communicative. Yes, sir, that was her motto. That was him. He was to turn that place into a paradise where everyone found happiness.
With those thoughts still in his mind, Haaiah saw how time was passing and many of the goals he had in mind he had not yet been able to achieve and some of them he had not even addressed.
He realized that facing the administration was not easy, but those setbacks were not going to be a failure, and he decided to make things difficult for them. He mobilized his comrades to support a strike, and he succeeded. He was sure that this would be effective and that the management would agree to accept the conditions they demanded.
But just when he thought he had victory in his hands, he was called to appear before the school board.
Our friend thought they would wish to negotiate, and said he would not give in in the least.
-Come in, young man," I invite a friendly voice. Allow me to speak on behalf of my companions, for we wish to propose a deal which we are sure a boy as intelligent as you will not be able to refuse.
-You mean, Mr. Director," replied young Haaiah, thinking he had won the game.
-Well, we have seen that you are very effective as a course delegate, and we think it is a pity that a talent like yours is wasted on matters as simple as defending the interests of a single course. Our proposal is to ask you to work for the administration and represent us on the General Council as secretary. What do you say?
The "politician" was not out of his depth. He knew he was being bought off. He knew that if he accepted he would betray his comrades, but the proposal was so seductive. It was what he had always dreamed of.
Everything seemed to indicate that he was going to accept the proposal, however, from his lips came a refusal.
-No, I don't accept your offer. I am very grateful to you, but I cannot aspire to power when the price is betrayal of my friends.
This is how Haaiah continued to fight for the truth, and now he would do it with a power that no one could take away from him: HONESTY.
End