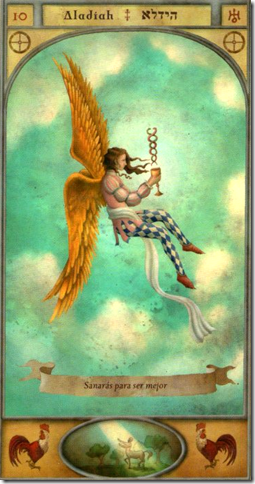 Name: Aladiah: "Propitious God".
Chorus: Cherubs, Angels in the service of Hochmah-Amor.Angel
What it gives:
Creation of disease; moral regeneration.
Inspiration to lead a company to a happy outcome.
Forgiveness for any bad deeds we may have committed.
Contact with influential people.
Protection against negligence and carelessness in health and business.
Lesson: Be fair and moderate.
Planet Uranus
Sephirah: Hojmah
Regency schedule: From 3 to 3: 20 hs.
It is invoked for:
Heal physical and spiritual ailments.
It protects us from harmful psychic energies and envy projected towards us.
Get forgiveness when there is real repentance.
Regeneration of morals.
Enjoy the friendship of important people.
Bible quote:
May your great love, Lord, be with us,
just as we expect you to.

Psalm 33:22
Those born under your regency:
[sociallocker id="356″]
They are reliable people with good hearts and correct in their undertakings.
They will have an intense social life and frequent the best of society.
They will be like angels on earth, understanding, reserved and dedicated to the beloved person. They will have a fertile imagination, self-confidence, flexibility and capacity to always choose the best paths and moments to act.
Tireless workers, they will not measure efforts to achieve a more just society.
They will be bearers of harmony and will be happy to take care of their body.
[/sociallocker]
Aladiah: "The failure of an evil angel"
There was a happy time in the great Heaven, when the Angels were all good. In those days everything was Light. A powerful Light emanated from the Fire and those beings lived happily serving their creator. But one day, their Maker and Lord, commanded them to make a long journey in which they were to conquer new lands for Him.
- Go to the abode of Hochmah where my face is reflected in the crystalline waters of wisdom," said the Great Master.
But not all the angels obeyed him, and that insubordination angered him.
- From today onwards you will cease to inhabit the region of the Divine Light and you will be consumed in the Fire of the Inferno, where you will become confused within the shadows of the abyss.
Since that sad day, the Angels were divided and while some were good, others were not. A tenacious struggle arose among them, but let me tell you a story that really happened, and still happens ...
One day, the legend tells that a good angel named aladiah met Luzan, a demon of darkness. And it happened that Luzan's envy led him to challenge his former brother Aladiah. But he didn't want to hear about these deals and wanted to avoid them. However, he didn't succeed, as Luzan told him that he was very cunning:
- If you don't accept the bet, for every day that passes I will possess the life of a human being.
- No, you can't do that," Aladiah replied, "you can't intervene in their destiny.
- Don't be naive little brother, watch and see.
And saying this, he went into the body of a poor old man, who could not resist that cursed force and had no choice but to leave his body, he had died.
- Enough, I beg you," exclaimed the Good Angel. Yes, I will accept your bet, but I will do it on one condition. If I win, you will leave this area of heaven forever and retire to the abyss, agreed?
Aladiah had no way out, but at least he would have a chance to put an end to that hell.
- Pay attention, because I will explain the rules of the game only once. We will choose a human at random. If you prevent me from doing my will, I will do as you ask, are you satisfied?
It was a truly diabolical plan, but what could I do...
- And what is your will? -asked Aladiah, fearing the worst.
- Let him make an attempt on his own life," answered the devil.
The unfortunate victim had been chosen. He was a peasant, the father of a humble family united by strong ties of love. This good man worked tirelessly to support them, and in spite of the harshness of the work he had never complained or faltered.
However, from that day on, everything seemed to go wrong for him. His fields that were ready for harvest were flooded after a mysterious storm. But that misfortune was accepted with resignation, for he was a man of faith in God.
Luzan tried again, and this time she made her youngest son very sick. That would end his faith," thought the evil demon. But Aladiah was by his side, inspiring him with strength and arming him with patience. And that man accepted God's will once again.
He only had one last try left and in him he poured out all his evil. He urged that desperate father to steal, for he had nothing to eat, and he succeeded, but when he did, he felt so much remorse that he lifted his eyes to heaven and begged God's forgiveness and grace.
That meant the defeat of Luzan and the victory of Aladiah, but this would never have been possible without the will of that man, who knocked on the doors of Love.
End