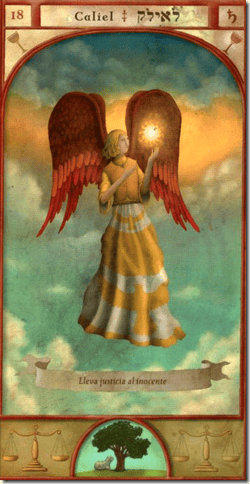 Name: Caliel "God is ready to help".
Chorus: Thrones, Angels in the service of Binah-Ley.
What it gives:
Help in the face of adversity..
Knowing the truth in lawsuits, making innocence triumph.
Confusion of guilty and false witnesses.
It distinguishes those who are dedicated to the judiciary.
It protects from the scandals and cons the maneuvers of the low and creeping men.
Lesson: Understanding the application of justice
Planet: Uranus.
Sefirah: Hojmah.
Regency hours: from 5:40 to 6 hours
It is invoked for:
Finding a good defender in legal proceedings.
To provide us with relief in the face of adversity so that the truths in the processes may emerge.
Bible quote:
Judge me according to your justice, Lord my God;
don't let them make fun of me.

Psalm 35:24
Those born under your regency:
[sociallocker id="356″]Evolved aspect: he is intelligent, irreverent, charismatic and has a strong personal magnetism. He has extraordinary intuition, especially when it comes to discovering the truth. It is enough for them to look to identify the true intention. He does not like what is vague, abstract, always wanting to understand everything in all its details. He has great sagacity, enormous patience, perseverance. He analyzes any situation in a cold and objective way. He is incorruptible and loves justice, truth and integrity. He analyzes with love every small manifestation of daily life. His logic will be unassailable, he is a true magician who manages to perform miracles by his intense faith. [/sociallocker]
Caliel : "Overcoming Adversity"
For Taron, everything that was happening made no sense. He'd always heard the old folks say that if you go wrong, you go wrong. However, he felt that his steps were on the right track and that he should not be a victim of the adversity that befell him in those days.
I'd never listen to the advice of the elders again. I would never believe in anything other than their own reasoning. Life was hard with Taron, the eldest of three siblings, and he would bear all the responsibility for their upkeep and education, since his parents had just left the material world and passed the Threshold of Eternal Life.
- Why that misfortune? -the young man asked himself again and again.
With this doubt, our friend grew up, and the years would not pass in vain. Each day that passed was like a lesson that Taron incorporated into his life, and very soon, that innocent boy would become a responsible adult.
There were times when Taron despaired, felt powerless to move forward. There were many times when the feeling of unhappiness was so strong that he thought of abandoning everything and running away from that oppression, but always at the last moment he gave up trying.
That afternoon Taron had come home from work very early and was very tired, so he soon left his body in the hands of the comforting sleep. During the night Taron's soul moved to the Wish World and there he had an interesting experience.
- High Taron, you stand before the Gate of the Great Temple of Knowledge. Only those who know how to unveil the Secret Enigma will be able to pierce its veil.
These were the words of Caliel, the Elder who guarded the access to the Temple of the Mysteries.
- What's the riddle? -asked the young man.
- Answer me this question: what is the reason for the suffering?
Taron thought deeply about the question. He remembered his own life and gathered all the knowledge he had learned in it, and saw how what he wanted least was imposed upon him, and he understood what he was to learn from it. Then he answered:
- The reason for suffering cannot be other than learning to do well what we did wrong in another time.
Suddenly the Doors of the Great Temple of Knowledge opened, and Taron was able to penetrate inside. There he could know the cause of his adversity. He saw how he had once abandoned his family, preferring to live for his personal glory.
With the memory of that experience in the World of Desire, Taron had become a new man. From that day on, he never again felt the need to escape his trial, and what had been adverse for a long time had ceased to be so.
End