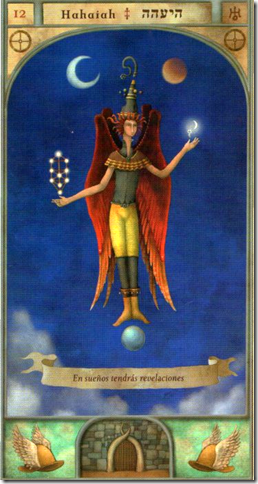 Name: Hahaiah "God of Refuge".
Chorus: Cherubs, Angels in the service of Hochmah-Amor
What it gives:
[sociallocker id="356″]
The ability to interpret one's own and other people's dreams.
Protection against adversity.
Revelation of the mysteries, in one's own life and in the life of others.
Society's discretion about what we're doing.
Protection against abuses of trust, lies, indiscretions.
Lesson: To be the intermediary of peace and harmony
Bible quote:
Why, Lord, are you keeping your distance?
Why do you hide in moments of distress?

Psalm 10:1
[/sociallocker]
Hahaiah: "The Revelation of a Mystery"
The parents of young Jalon were very concerned about their son's health.
A few days ago, that child, who enjoyed an iron fortress, had lost all his well-being and had become weak and frightened, and what was worse, nobody knew the reason for that mysterious reason.
Jalon had a reputation among his friends for being a cheerful and game-loving child, but they were all surprised when overnight sadness overtook him and he never again participated in the invitations extended to him by his peers.
His parents did their best to bring joy to his heart, but so far no one had managed to remove the shadow of deep fear that appeared again and again on Jalon's face.
One day, a mysterious and strange traveler arrived in town. He was an old man who could hardly be pulled out of his body anymore, and yet there was something in him that made one think that there was no destiny that he could not reach. One afternoon, when Jalon was in the solitude of his thoughts, he had a fortuitous encounter with that old man, who, seeing such profound pain on his face, said to him
- What fear stuns your soul so deeply?.
Without saying a word, the young man tried to get rid of that question, but he did not have time to do so, when the old man called his attention to it again:
- Why do you fear death if it is as necessary as life?
Jalon was impressed, how would that old man know that his concern was the fear of death?
- Look at that fruit," continued the old man, "it will soon fall off the branch and fall to the ground. It will have died to the tree, but inside it carries a seed and this in its contact with the earth will give rise to a new tree, and this in turn will bear new fruit.
With those words Jalon received the revelation of a profound mystery.
From that day on he would never be afraid of death, because he understood that it would come in its time and when it did, it would allow him to release the seed that would open the doors to a new life.
End