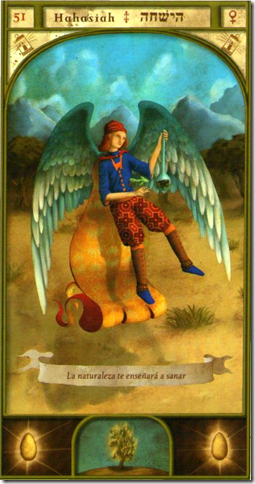 Attribute: Hidden God.
Planet: Mercury.
Angelic Choir: Archangels.
Sefirah: Hod.
Regency hours: from 4:40 p.m. to 5 p.m.
It is invoked for:
Assist us in revealing hidden mysteries.
Cure mental illness.
Raise our consciousness to God.
Those born under your regency:
[sociallocker id="356″]People born under this regency will love all sciences and will be interested in knowing the properties and attributes of animals, plants and minerals. They will be pure and creative, leading their lives in harmony. He will try to understand the divine order in the human structures, he will be able to be a magician great priest of the esoteric sciences. He will obtain prestige and authority to give courses and conferences. He will work to find peace among people and he knows that when a difficulty passes, this is a means to access his divinity and he has simple tastes. He is a nature lover and will always be attentive to small details such as romanticism, painting, music, perfumes. He has a natural poetic gift and will have many revelations through initiatory works. [/sociallocker]
Bible quote:
May the glory of the Lord endure forever;
may the Lord rejoice in his works.

Psalm 104:31
HAHASIAH: 'A WONDERFUL DISCOVERY
Everyone agreed when they talked about Vejur that he was a strange young man. No one could foresee his behavior, he was just going his own way.
When his classmates were still having fun playing in the streets or parks, Vejur's greatest pleasure was reading books.
That's why everyone knew that when someone wanted to find him, they would only have to go to the library, his favorite place.
The library was his sanctuary, there he was at peace, away from the worldly noise. He spent more time within those walls than he did at home. He read and read for hours on end, ceaselessly seeking to find the answers that would quench his thirst for knowledge.
Vejur, since he was a child he had always been attracted to medicine. The secrets of the human body fascinated him and he devoured the texts of physiology, anatomy and pathology.
He still had a few years left to study at the university, but that did not stop him from satisfying his burning curiosity. The inspired young man was very clear about his vocation. When he grew up he would be an eminent doctor, he would consecrate his whole life to the sick and that made him happy.
However, Vejur kept looking. He had been looking for answers for a long time, but no book would give them to him.
Why do we really get sick? Why do two people with the same food and care, one of them gets sick and one of them does not? Why do some people get cured and others don't despite taking the same measures?
There were so many questions whose answers could not silence his concern.
One day, when young Vejur was looking through a pile of old books for some medical text he could read, he had a very strange experience.
Suddenly and without knowing how, a book slipped off the shelf and came to fall right into his hands. The surprised boy looked at the manual and was amazed. It was a very old text, very ancient. Its title was in Hebrew and he regretted not knowing how to decipher it. Inside he discovered a series of graphics and feared that the work was written in that language.
But that's when I was even more surprised. He had in his hands a manual of Kabbalistic magic concerning the healing of the four bodies.
-Four bodies? -read young Vejur's call for interest.
And that's how he started reading.
-He who writes this manual, named Hahasiah, Eternal Servant of the Supreme, following the wisdom and voice of the Seven Great Logos, faithfully transcribes what their Majesties have entrusted to him.
He didn't take his eyes off those lines for a second. Without realizing it, little by little he was living each letter, each message and his face was getting brighter and brighter. He was absorbed in reading. His unknowns were being revealed. Now he knew the true causes that led to the beings to get sick and heal. He knew the ten great Centres - Dwellings of Gods - which were hidden in each man and which became tangible in each organ of the body.
The discovery of that mysterious book led the young Vejur to investigate the Great Secrets, and when he grew up he became a great physician and his fame spread throughout the world, for he not only healed the body, but also the spirit, his only lord and master.
End