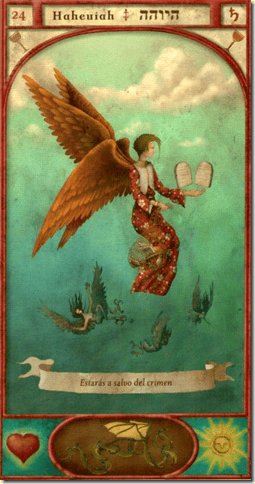 Attribute: God's goodness itself.
Planet: Uranus.
Angelic Choir: Cherubs.
Sefirah: Hojmah.
Regency hours: from 7:40 to 8 hours
It is invoked for:
Get God's grace.
Protecting prisoners, fugitives, who suffer unjust punishment.
Protect us from thieves and murderers.
Protect us against car accidents and all kinds of violence.
Bible quote:
but takes pleasure in those who fear him,
in those who trust in their great love.

Psalm 147:11
Those born under your regency:
[sociallocker id="356″]He who is born under your regency has a karmic link to the country in which he lives. He is endowed with great spiritual power, maturity and discernment. He is a great friend and companion with whom everyone wishes to live. He possesses analytical intelligence and seeks answers within religious concepts for everything that happens in the world. Dignity and respect are components that mark his strong personality. He is an excellent administrator, gifted with a natural "luck" for business. He may be involved in the recovery of people who have had problems with justice, offering work, financial and moral support. He will have great concern for the security of both the branch and the community. He will be able to access the media, radio, television and create controversy in debates. [/sociallocker]
HAHEUIAH: "THE LAW OF MERCY"
Justice was very strict in the Binah region. Their motto was: "If you break the law, you will be punished for it."
It was true that many respected the laws, for they were so afraid of the weight of the punishment that they thought twice before flouting it. However, not everyone shared this fear, and Haheuiah was one of them. The law did not concern him in the least, and to prove it he set out to steal from the royal coffers that very night, as he had done on other occasions.
Well it is possible that the previous times he had ransacked the palace he had better luck, but it would not be so on that new occasion, since he was discovered and apprehended by the guards.
Haheuiah did not know then that he would be a victim of the rage and fury that King Binah had accumulated against him. He had been mocked several times by the cunning of a common thief, but now everything was different.
He had in his hands the opportunity to show the people that the letter of the law is not just paper. Now they would check its true weight.
It did not take long for a jury to be assembled and for the trial to be held, which was sentenced in the blink of an eye. The evidence was obvious. He had broken the law and should be punished.
-This jury unanimously finds the prisoner named Haheuiah guilty of the crime with which he is charged.
-The judge said that the prisoner will have to serve the maximum sentence: he will be exiled from the region of Binah and will be transferred to the Dark Zone of Gueburah where he will have to remain until his death.
Habeuiah knew very well what that meant and yet he felt no anger for those who condemned him.
He recognized that he deserved to be punished, since he himself had not set limits to his actions. He could do nothing to change that verdict, but what he could not do was to appeal to the Supreme Judge to forgive his mistakes.
-My God, forgive me my sins and forgive those who judge me here on earth. May your mercy dissolve our faults and we may be free from them.
That plea worked miracles, since the Judge overturned his verdict on the grounds that a new element should be introduced into the laws, namely, mercy.
-Do you regret what you've done? -I ask Binah.
-I acknowledge my guilt, Judge, and request to be punished for it. -I answer Haheuiah-.
-In that case, you will be transferred to the palace and work in the service of the royal treasurer. This will redeem you.
Thus it was that Mercy, an attribute of divine love, became part of the Justice of men. That day, evil lost another battle.
End