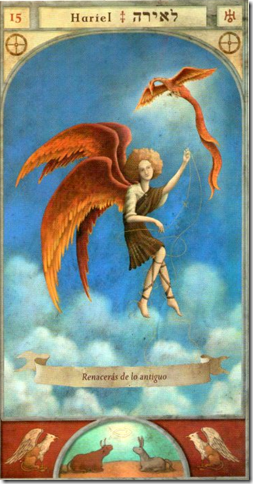 Attribute: God the creator.
Planet: Saturn.
Angelic Choir: Thrones.
Sefirah: Binah.
Regency hours: from 4:40 to 5 hours
Bible quote:
But the Lord is my protector,
is my God and the rock on which I take refuge.
It is invoked for:
Obtain improvements in professional performance.
Attract the love and kindness of those around us, especially among our family members.
Exalting religious feelings.
Help us discover what's useful and what's new.
Those born under your regency:
[sociallocker id="356″]It has great purity of feeling, it is simple, but refined for material and social values. He will tend to study the esoteric sciences, organizing associations, promoting conferences and working to instruct the legalization of esoteric or alternative activities. His religion is exalted. You will have great enlightenment that occurs to you in a conscious way. He will institute rites and customs to contribute to the expansion of spirituality. You will have power for magical invocations and will fight materialism to improve human existence. He will have an authority, an extraordinary analytical intelligence. Possessing a strong sense of justice, he will always find enlightenment by choosing the paths to follow. Realistic, he will always have his feet on the ground. He will have the facility to learn, create and study. He will always be in a great mood, showing that life is simple and that there is no need to make it difficult. He will always ask his Angel for things that he will grant him quickly. One year of his life can be compared to five years of someone else's.[/sociallocker]