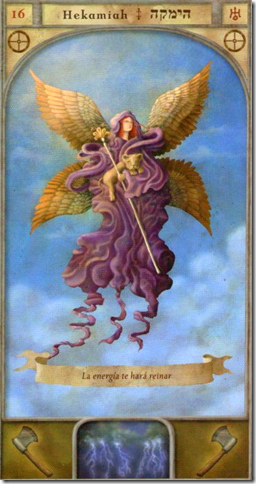 Name: Hekamiah "God who erects the Universe".
Chorus: Cherubs, Angels in the service of Hochmah-Amor
What it gives:
Requesting protection for the King and Queen and high officials.
To find favor with people of high breeding.
Conquest of loyalty.
Defeat the enemies.
It protects from the stalking of rebels, seditionaries and traitors.
Lesson: Crystallize the highest values.
Planet: Saturn.
Sefirah: Binah.
Regency hours: from 5 to 5:20 a.m.
It is invoked for:
Help us transcend our problems.
Beat our internal enemies.
Protecting those in leadership positions.
Ask for courage, perseverance and constancy.
Bible quote:
But the Lord is my protector,
is my God and the rock on which I take refuge.

Psalm 94:22
Those born under your regency:
[sociallocker id="356″]It has a natural aura of peace. His sincerity is reflected through his nobility and authority, his personality and prestige. He is faithful to his oaths, has a frank, loyal, courageous character and is sensitive to questions of honour. He takes extreme care of his family and children, giving them priority over everything else. Loved by all, he will always be respected for the sensitivity he possesses. He will live every minute of his life with great tenderness, love and hope and will wish for everyone a life as worthy as his own. He will always like to be changing everything, from the position of the furniture, restoration and painting of his house to the physical appearance with which he takes great care and attention. Very sensual, she will appreciate keeping trophies of her loves as if externalizing the feelings of the past. [/sociallocker]
Hekamiah: "The unhappy king"
Very early in the morning on that quiet morning King Haman, in truth, had not been able to sleep all night, for a worry was robbing him of his sleep. The sorceress of the realm had seen in the sacred ashes the death of the Sovereign.
- What do the ashes predict, wise witch? -asked the king with interest.
- Your Majesty, Your Majesty, I don't know what is wrong with me, I can hardly perceive the Voices of Time," the wizard titled.
- Concentrate, I beg you, for we cannot begin the year without knowing the future," replied Haman.
- But Your Majesty... -voiced the Wise One, but she could not finish.
- I will not accept a refusal for an answer," interrupted the king, "I want to know what you see.
- If you wish, know that the Voices from Beyond speak of death.
- Deadly? -asked the king in surprise. Tell me who death will visit, perhaps we can help.
- You cannot, Your Majesty," said the sorceress, "for death will knock at your door.
Aman's face paled, he could not believe the words of the fortune-teller. It couldn't happen to him, he was the king. But that woman's eyes did not lie and Haman knew how to read it in them.
Sadness took hold of him and he was very unhappy, for he was full of life, and now he was afraid to leave it.
On that morning he walked through the palace gardens, and without realizing it, he took a detour into the woods. When he was most absorbed in his thoughts, a groan of pain caught his attention, he went over to the place from which they came and found an old man half dead on the ground.
King Haman ran to the aid of the unfortunate man and saw that his wounds were serious. He understood that he urgently needed the Wise Man's care. Without further delay Haman took the old man on his shoulders and carried him to the palace where he would receive the care he required. He saved his life.
Once he recovered, he asked who had saved him.
- It was King Haman himself, a noble old man, to whom you owe your life, yet no one can prevent you from losing it.
- Is he suffering from some incurable disease? -asked the old man.
- The evil of mature karma," replied the Sage who had taken care of him.
- If so, tell your king not to fear for his fate, for by saving my life he has saved his own. I was his destiny, and his love for me has opened a new page in the Sacred Book of Time. Take your king's life, then.
Nobody saw Hekamiah again, that was the old man's name. Aman lived for many years.
End