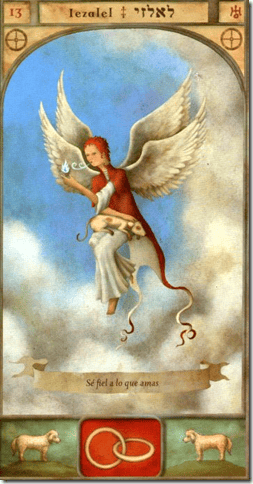 Name: Iezalel "God Glorified above all things".
Chorus: Cherubs, Angels in the service of Hochmah-Amor
Planet: Jupiter
What it gives:
[sociallocker id="356″]
Marital fidelity and reconciliation between spouses.
Happy memory.
Ability to execute any task.
To get favors from superiors.
Protection against error, ignorance and lies.
Lesson: To be the reconciler.
Bible quote:
Make a joyful noise unto the Lord, ye inhabitants of all the earth!
Rise up in joyful song and psalm!

Psalm 98:4
[/sociallocker]
Iezalel : "A dream of reconciliation"
Sol did not remember a morning as sad as the one that announced the new dawn.
With her face heavy and haggard from the crying that kept choking her throat, our little protagonist could hardly find a reason to continue living together in that place, where she had grown up happily until then.
I could still hear her living it over and over again, the conversation her parents had. I didn't quite understand why they were arguing so heatedly. Her mother accused her father of never being at home, and her father was upset by this comment, complaining that she could not control her life.
Things were bad," thought Sol, "and looking for a reason, it was said that perhaps she was to blame for her parents arguing, and the best thing she could do to help them was to leave home, so they would not have to worry.
Convinced that she was doing the right thing, she wrote a note to her parents in which she stated the reasons for her escape. Taking advantage of the darkness of the night, the little sun got confused in the shadows and left her home, she was sure that it was the best thing for everyone, but she could not avoid that her only companion in that desperate adventure was sadness.
When the sun rose the next morning, Sol was far away from his home. She had walked all night and now felt exhausted, so she sought shelter among some trees where she fell soundly asleep. During her Swedish, she met an angel who called her by name:
- Sol, Sol, I am Iezalel, the angel of Fidelity. I have seen that something is bothering you and I want to help you," he said in a very sweet tone.
Sol, who was not very surprised, answered:
- I don't think anyone will be able to help me, since I caused the problem myself, and I must be the one to fix it.
- Your action is very noble, but perhaps you should know something.
And saying this, the angel showed him some images where he could see the deep pain of his parents, who were embracing the loss of their daughter.
Sol was so impressed that she woke up with deep anxiety. She had to return home as soon as possible, as her parents needed her to be happy.
And so it was, when her parents saw her return, they merged with her in a close embrace. Sol had reconciled her parents and learned that LOVE IS ALWAYS A BOND OF UNION.
End