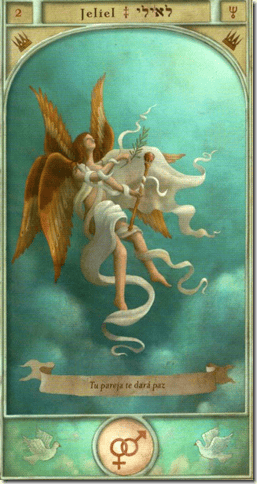 Choir: Seraphim, Angels in the service of Kether-Volunteer.
What it gives:
Fertility.
Restoration of peace between spouses. Marital fidelity.
Fidelity to the superior, to rulers and kings.
It calms the popular seditions.
Abandonment of celibacy.
Lesson: Use thinking to overcome emotional situations that dominate. Overcome attachments and material vices.
Latin name : Deux Auxiliator
Meaning: God's help
Attribute: God who helps.
Planet Neptune.
Sefirah: Keter.
Regency hours: from 0:20 to 0:40 hours
It is invoked for:
Obtain victory against those who attack us unjustly.
It calms popular uprisings and aligns the behavior of the rulers.
It restores peace between the spouses and marital fidelity.
It restores harmony between employees and employers.
Bible quote:
Spare my life from the sword,
my precious life from the power of those dogs.
Psalm 22:20
Those born under your regency:
[sociallocker id="356″]
He likes to do everything quickly and when he is little he usually does not have the patience to listen to the teachers because it seems to him that the information is already in his mind. From a young age he has intuition to see what is right and what is wrong. Inside him, even as a child, he knows that he is not on earth just because. And he knows that his family is Karmic, feeling a certain obligation to help them. Extremely loving, he exalts truth and universal brotherly love. His superior emotions are so strong that through them he comes into contact with his Regency Angel. He never allows himself to be negatively influenced and has the sobriety to dominate any type of situation. He is a bearer of peace, where there is conflict, he defends the truth and detests violence. He adores animals, loves flowers and all of nature. People consider him to be magical, thanks to the good humor with which he resolves all situations. He is a bit vain and likes to be fashionable.
If two people are at odds because they both think they are right and cannot accept the part of truth in the other, the seraphim JELIEL brings them closer, "forcing" them to leave stubbornness behind. This seraphim especially helps to maintain conjugal harmony and is the one who brings peace where there is conflict, truth where there is error and universal love to overcome prejudices of all kinds.
[/sociallocker]
Jeliel: "The New Essence"
In the Great Book of the Mysteries, where the passage of time is faithfully recorded, there is written in golden letters a beautiful legend that happened many, many years ago, so many that its memory melts into the events of the days. Let me tell you what my eyes were fortunately able to read in that Sacred Manuscript.
It was then the second Cosmic Day, and the workers were working indefatigably in the construction of a majestic temple. They had to hurry, since it was the will of the king, the Supreme Kether, that his son Jeliel, the most skillful and skillful of warriors, should marry, in the magic of secrecy, the adorable Hochmah, Princess of Light.
And so it would be, because after two moons, Jeliel and Hochmah got married sealing their union with a magical ritual inspired by the Gods in the emanation of a new essence called Love.
Kether, the old and noble sovereign, left his kingdom happily in the hands of his son, and sought the peace of his last days in the shelter of meditation, retiring in the solitude offered by the temple. Since then, it would be Jeliel who would rule together with his beautiful and wise wife Hochmah.
Kehoch, the hidden city, gave shelter to a people inhabited by impetuous, energetic and ardent souls, struggling in the art of colonization, and therefore its men were expert guides and magnificent adventurers.
But times had changed and after many years of going back and forth, a part of the people felt tired, and this led them to request an audience with the monarch.
- I have been widely informed by your advisers of your unwillingness to undertake new adventures, and I cannot help but show my dissatisfaction. You know that there are still new lands to be conquered, new horizons to be explored, and you ask me to forsake them. How can you explain this to me? -said Jeliel angrily.
- Your Majesty, for years we have worked tirelessly for your Father, the Great Kether, and the boundaries of Kehoch are almost limitless. Your power rules over all lands, and yet who inhabits them? We have no time. When we conquer them we are forced to leave them to conquer new ones. Know that our will feels called to take root. We have felt an interior voice that speaks to us and tells us: unite as your king and queen have united, and do it in the temple, under the magic of the secret.
Those were the words of a people who felt that something important had changed in their lives.
- No! I can't allow that madness," Jeliel shouted angrily.
But that answer carried in it the seed of division, for his wife Hochmah was attracted by the same voice that spoke to his people, and the king, not wanting to break his commitments, decided to abandon her.
When the news became known to the faithful men of the kingdom, they could not help but feel in their hearts a deep rage.
- We must avoid it," cried an exalted voice.
- Yes, we must," many others in the same vein, accompanied.
The palace was besieged by the same men who had once guarded it. The people had risen against the will and submission of the tyrant king. However, Jeliel had divine blood in his veins and his mind received a ray of light that made him understand that with his energetic behavior he was opposing the Divine Will.
That Light made him evidence of the power of the New Essence, Love. Since then, his will was no other than to share it with his wife and his people.
End