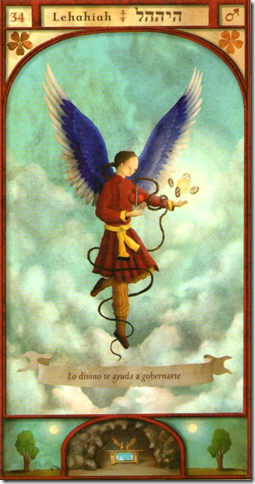 Attribute: Merciful God.
Planet: Jupiter.
Angelic Choir: Dominations.
Sephirah: Chessed.
Regency hours: from 11 am to 11:20 am
It is invoked for:
Calm our anger.
To understand the divine laws and the structure of the universe.
Those born under your regency:
[sociallocker id="356″]He who is born under your regency will be famous for his talents and actions. An inspired peacemaker. He will have everyone's sympathy and loves to solve problems by giving advice and support. His aura of confidence will attract influential people who will invite him to work. He will be a good worker performing better in leadership positions. His attitudes will be firm with high moral principles, kindness and hospitality, but he can suffer perceptions when people do not correspond to his expectations. He will always have to go deeper into all the issues that interest him and if not he will have to accommodate to always have a superficial knowledge about everything. Deeply emotional, she transfers to her children the love received from her parents. He can be a patron of the arts, especially music, because in spite of his talent he will hardly be a practitioner. He will have latent paranormal gifts that can become liberating. Perfect cleanliness will be one of his great concerns, because he knows that in dirty places, broken objects, miasmas are found. [/sociallocker]
Bible quote:
Israel, put your hope in the Lord
from now on and forever.

Psalm 131:3
LEHAHIAH: 'THE CHOLERIC KING
Little by little the Masar region was becoming uninhabited. Since Lehahiah was appointed Sovereign of the kingdom, its inhabitants were subjected to a rigorous fate.
Fear came upon every man, for the wrath of the king when it was unleashed was terrible. Masar had never been a land of cowards; they were a people accustomed to face the difficulties of life. They did not shy away from combat when it was necessary to fight, and they took pity on their enemies when they were defeated in battle.
But since Lehahiah was crowned king, he demanded faithfulness from all to end injustice and corruption.
Everyone expected that his purpose would be to guard and protect Masar from traitors and murderers, and he did, but to achieve this he issued an order abolishing the right to be judged. He proclaimed himself the sole judge and, wielding his sword, sentenced left and right.
A peasant who was caught stealing a chicken was brought to his presence and when he learned of the charges against him he ordered:
-Cut off his right hand, and if he repeats his action again, cut off the other one too.
That was his first sentence as sole and supreme judge. The truth is that everyone was amazed by the surprise. No one understood what was happening and it was one of the Crown Counselors who was outraged by that attitude and addressed the sovereign:
-Majesty, forgive my boldness, but I speak on behalf of the Royal Council and must convey to you our rejection of the decision you have taken.
-Stop it! -Lehahiah cried out in anger. If we don't put an end to the evil, it will win the battle for us.
The counselor, seeing that he could hardly convince the king that his discipline was merciless, chose to leave the room.
Other cases followed, and soon the punishment cell and the guillotine took on a special role.
The people were terrified and many decided to leave their homes with much regret and venture out in search of a new horizon.
In a short time Lehahiah saw his kingdom uninhabited and the oppression to which he had subjected his people was giving its reward.
One morning, when he woke up, the silence was so thick that you could breathe in the air. That called his attention, and he wanted to know the cause of so much inactivity.
He called his servers several times, but received no answer. Anger overtook him once more, and taking up his sword he nervously went out in search of an explanation.
As he passed by a pond he saw the image of a man reflected. His anger was so great that he attacked him. With a commanding hand he thrust the blade into the heart of the man he presumed to be his enemy, but what a surprise to find that the man was the same.
From then on, Lehahiah would never again attack beings or things in anger and became a faithful executor of order.
Little by little, those who left would return, and many more would come, eager to serve the just Sovereign of that kingdom.
End