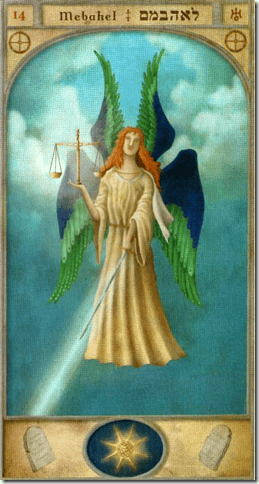 Name: Mebael "Conservative God".
Chorus: Thrones
What it gives:
Justice; benevolent impartiality of a court
Release of oppressed and prisoners..
Love and celebrity in the practice of law.
Protection against slander, false testimony and lawsuits.
Reconquering the unjustly lost.
Lesson: Applying justice.
Planet: Saturn.
Sefirah: Binah.
Regency schedule: from 4 : 20 to 4: 40 hours.
It is invoked for:
Ask for justice and fairness.
Ask for protection against slander and false testimony from those who wish to usurp other people's property.
Free us from depression.
Protect the innocent.
Make the truth known.
Bible quote:
The Lord is the refuge of the oppressed;
is their stronghold in times of distress.

Psalm 9:9
Those born under your regency:
[sociallocker id="356″]He will be a dream coder, knowledgeable of material and spiritual laws. He will always be a bearer of good news, he will be a selfless defender of innocent people. Through his ego he marks a strong presence of his spirit. He lives his day-to-day life with nobility and dignity in his actions. Sometimes he will have a strong impression that he is living something that already happened in another dimension or if not from another life. He will have great facility of adaptation and his life will be the transmutation in the sense of a spiritual regeneration. He will not waste time in futilities and in any environment he will be the center of attention for wisdom, good sense, serenity and intuition. Your Angel can show you great knowledge and the legacy of other incarnations, to be used with people who need help. He will have the gift of oratory and strong discernment. [/sociallocker]
Mebael: "The Angel of Justice"
No one had ever felt a sadness as deep as the one that overwhelmed the Goshawk in those days, at least he thought so. His grief was so great that he had ordered his entire kingdom to remain silent until his pain was completely gone.
Nobody dared to violate that mandate except Saturn, the Supreme Judge of the kingdom.
- But Your Majesty, you well know that no one may enter the prison city. All who approach it are made captives and remain there for eternity.
The more the King listened to the words of the Judge, the more he felt affliction, thus increasing his pain.
When all hope seemed lost, someone came to disturb that silence.
On the back of a white horse, a young knight had just arrived in the kingdom. Nothing seemed to surprise him about how much he saw on his way; on the contrary, one could say that he knew very well what was happening there.
Since no one opposed him on his way, he soon arrived at the royal hall, where he found King Azor sunk in his despair.
- Your Majesty," the gentleman politely greeted, "I came as soon as possible. I am sorry if my delay has prolonged your torment.
- Am I dreaming? -Is it a hallucination, as you say I have requested your presence? -continued the king in surprise.
- No Majesty, if you remember, you sent for me. Is not your son a captive in the prison city?
- Yes, he is, and he would give my kingdom in exchange for his freedom - I express the king without being a master of himself.
- If so, reveal a secret to me," said the mysterious gentleman.
- A secret, you say? there are no secrets in my kingdom," answered the king, troubled.
- You are mistaken, for all those who are captives in the prison city have sold their hearts to the chief of the prisoners.
- Do you mean to say that my son is a servant of the Light without a master?
- So it is, Your Majesty, and only he who owns the Light can defeat the chief of the prisoners.
- So what can I do? -asked Azor sadly.
- I will go to him and submit him to the Justice of the Times. I will put light in his hands, and if he knows how to light the strange path with it, he will return safe and sound. If not, he will remain forever in the service of Prison, his only owner.
Legend has it that this knight managed to defeat the chief of the prisoners, and King Azor had his son back with him. From that day on, the brave knight would be known as Mebael, the Angel of Justice.
End