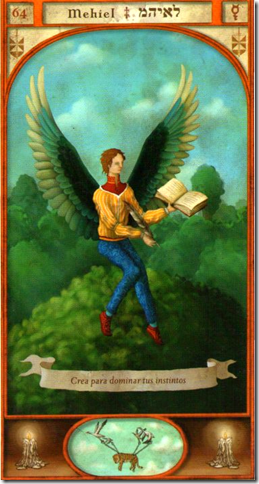 Attribute: God who gives life.
Planet: Venus.
Angelic Choir: Virtues.
Sephirah: Netzakh.
Regency hours: from 9pm to 9.20pm
It is invoked for:
Comfort us in the face of adversity.
To have inspiration for literary works.
Protection of a trade.
Protect us from traffic accidents.
Those born under your regency:
[sociallocker id="356″]He will stand out above all for his willingness to learn. He is tolerant and generous, will understand everyone and will look for the positive side of things, as well as understand their shortcomings. He will generally always keep the best part of anything, as long as the others involved look good. He is mature, has a bright intellect and could have a perfect body. He is full of vitality and knows how to balance reason with passion. He loves to love and be loved and sometimes needs to possess and give affection. He always protects the family with his enormous strength and it might seem a little naive to consider everyone as a friend. He finds it hard to perceive betrayal. He gets angry easily when treated unfairly and will always be the center of attention because of his splendid way of saying. He may travel, meet, or party constantly. He always considers that everything is in his favor even when he is in difficulty. In his life there is usually no room for belief in superstitions or forces of fate. [/sociallocker]
Bible quote:
But the Lord cares for those who fear him,
of those who wait in their great love;

Psalm 33:18
MEHIEL: 'THE YOUNG WRITER
For quite some time now, life for Mehiel had become boring, monotonous. Nothing ever happened to make any sense.
His only distraction had always been writing, but that apathy had left his imagination barren and the source of inspiration seemed to have run out.
But that poor situation was not going to last forever, and so it seemed to our protagonist when suddenly that human cyclone entered his room.
- Brother, brother, look what I bring you," the impetuous young woman cried out breathlessly.
It was Mehiel's younger sister who had just caused that hit-and-run. In her hands she was holding a piece of paper that must have been very important, for the young writer's face lit up in a strange way. He took the note and kissed her repeatedly.
- This is my chance. Ha ha ha... -he laughed wildly. Now I have a reason to write again. I'm going to win that award and be a celebrated man. Everyone will hear about me.
With that illusion he gave himself into the hands of inspiration. He had to find a good script and bring the characters to life. Together they would do an excellent job. Yes, I was convinced of his talent. He had already shown it.
However, the days went by and the young writer had only managed to fill the wastebasket with leaves.
No doubt inspiration had left him. He had let time pass without using it, and he must have grown tired of waiting. But that was not the reason, and Mehiel, who at first only wished to be famous, was changing his attitude. He no longer cared about celebrity, he had to write to instruct others about the truths he held dear.
And that change worked miracles. Once again he felt that particular tingle that announced to him that he had to quickly take paper and pencil, because the spring of inspiration flowed again and vivified his mind with images that he had to transcribe.
- Once upon a time, in the confines of Time, when humanity lived free and happy in a beautiful kingdom, a terrible beast emerged from the darkness and sought man to satisfy its ferocious appetite.
That dragon had seven heads and ten horns, and it soon spread panic in paradise. But legend has it that among men there was one very wise man whom everyone loved for his courage and goodness. That brave warrior, armed with a sword forged in the forges of Ketber and tempered in the waters of Hochmah, confronted the beast which he defeated after a bloody battle in which he managed to cut off its seven heads, taking possession of its ten horns.
Since that day, humanity knew happiness again, and the brave warrior placed each head on the seven sacred mountains, and with the ten horns he built the pillars of a great temple.
All respected that nation, which reigns over all nations with wisdom and courage.
Mehiel had finished writing and felt like that warrior hero who had just defeated the beast. How much fun was he writing?
The next day, the young writer presented his work. He was no longer interested in winning the prize, but he wanted others to be able to read it.
Which it would certainly do, since the story was chosen from all the others and published. Many children will know how courage and love become an invincible sword with which any evil can be defeated, and especially the dragon's rage.
End