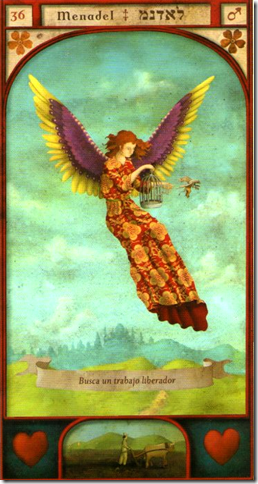 Attribute: God worth admiring.
Planet: Jupiter.
Angelic Choir: Dominations.
Sephirah: Chessed.
Regency schedule: 11: 40 to 12 hours
It is invoked for:
Staying on the job.
Keep what you have.
Lost and found.
Protect us against slander and curses.
To get news about distant people.
Those born under your regency:
[sociallocker id="356″]Evolved aspect: He'll have a lot of willpower. He will be sagacious with self-confidence and direct in his speech. Excellent friend and companion, passionate lover but offends with some ease and immediately criticizes something he does not like. He acts with discretion and cunning, assumes responsibilities with dedication and seriousness. A perfectionist dedicated to work, he expects the same attitude from the people he works with. Personal business will always achieve the proposed objectives. With his personality and charisma he will be well received in his work environment. Optimistic, independent, active and advanced, he considers honesty and truth to be very important aspects of life. He disagrees with some points of his religion, especially because of its lack of practicality. He will be called a prophet because of his profound vision of things, mainly in the social aspect. In spite of knowing that he has the strength of his angel, he will mistakenly only ask for help when other resources are exhausted. [/sociallocker]
Bible quote:
Lord, I love the house you live in,
the place where your glory resides.

Psalm 26:8
MENADEL: 'A VILE SLANDER
This is the story of two children who are very different from each other, but whom destiny, capriciously or not, has brought together. But let's see how it happened:
The course had just begun and the students were getting to know each other as was the custom in those early days, as many were new to the school.
That's how it was, how Brusco and Fidel first met. Both had coincided at the same desk, so they would be partners throughout the year. But that would not be the only thing they would share in common, as both aspired to be part of the school's athletics team, and both pretended to be the best.
Well, there was a little problem there, and they knew it. In order to be part of the school's athletic team, they had to win the position, be very good students in class, and pass all subjects, because only one would be chosen per class.
That requirement had always created a clean competition that encouraged students to get good grades, but on that occasion the competition would not achieve its goal, because what should have been a friendly relationship between peers, became a dirty rivalry.
Brusco had no scruples and was willing and determined to use any ruse to get himself elected to the team, and this, he would soon prove.
The teachers had just published a statement where the days of the exams were collected.
That was the opportunity Brusco was waiting for. He was an expert in the art of cheating on exams, and now, he would have the chance to prove it. But he wouldn't be satisfied with that, since he had to eliminate his competitor, Fidel.
For an entire afternoon he was thinking about how he could take down his rival. He schemed and schemed until he finally conceived a malicious action.
I arrive on the day of the first exam. Brusco hadn't studied at all, he was confident in his ability to copy, and so he did. He found it so easy that he was encouraged to continue doing it in the following days. Meanwhile, his plan was being forged.
The second day of the exam arrived and that was the one Brusco chose to carry out his bad idea.
When the professor approached his desk, Brusco dropped a piece of paper with notes at Fidel's feet. He didn't realize it, but the professor did, and when he read it, he addressed the innocent Fidel, reproaching him for his action.
-I didn't expect this from you, Fidel. You're expelled from the exam," said the professor angrily.
Fidel saw no point in defending himself, since the professor's anger was not open to discussion.
Meanwhile Brusco took that opportunity to make sure that his partner would be punished, and to make sure of that, he accused the teacher.
-I warned him, Mr. Menadel - that was the name of the professor - but he didn't listen to me.
However, Menadel believed he knew his students, and that is what led him to say:
-The written exam is cancelled. We'll do it orally.
None of his pupils complained, as they had all studied, except Brusco, who could not help but exclaim:
-But Professor, that's unfair.
That gave him away, and when it was his turn, he couldn't answer any of the questions. He himself was the reason why he could not be chosen for the team, but Fidel did.
End