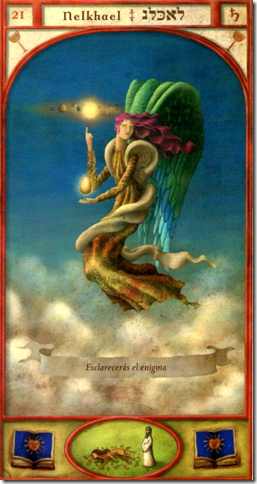 Attribute: One God.
Planet: Uranus.
Angelic Choir: Cherubs.
Sefirah: Hojmah.
Regency hours: from 6:40 to 7 hours.
It is invoked for:
Destroy the power of the enemy.
Protect us from slander, and also from people trying to take advantage of the innocent for themselves.
Help us understand astronomy, astrology, geology, mathematics and the exact sciences.
Bible quote:
My whole life is in your hands;
deliver me from my enemies and persecutors.

Psalm 31:15
Those born under your regency:
[sociallocker id="356″]It shows a lot of severity, restraint in words, balance between the spiritual and the material. Has strong leadership skills, self-control and patience. Seeks financial stability by pursuing his ideal at any cost and not accepting loss. Gifted with intelligence and imagination, he has maturity and mastery over his self. He always seeks the harmonization of everyone in the family, even though he often feels misunderstood by family members. He tends to be a loner, always looking for his ideal partner. He loves the beautiful and hates the ugly and vulgar. He will be very loved and respected in his work environment, refined, lover of poetry and painting. He likes to give flowers. He will be able to search scientifically the transcendental knowledge through the reading of old texts. His mission will be to unite science and art with religion. He will like to develop his mediunity through the esoteric sciences, but always in an analytical way. He has a personality of the type they say: "Seeing is believing". [/sociallocker]