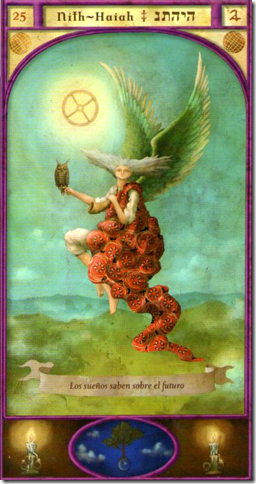 Attribute: God who gives wisdom.
Planet: Mars.
Angelic Choir: Powers.
Sephirah: Geburah.
Regency hours: from 8 am to 8:20 am
It is invoked for:
To obtain wisdom and revelations of hidden mysteries.
Influencing white magic to bring new revelations.
To obtain peace through the knowledge of truth.
Bible quote:
I want to be happy and rejoice in you,
and sing psalms to your *name, oh *Highest.

Psalm 9:2
Those born under your regency:
[sociallocker id="356″]Evolved aspect: possesses serenity, moderation, balance, self-control, harmony and patience. In this way he manages to stabilize himself emotionally, professionally and materially more easily than others. He is benevolent even to his enemies, lives fully, having joy and pleasure of living. His life has no obstacles or limits. Generally self-taught and well informed on any subject. May possess great paranormal power and inspiration to master the esoteric sciences. He will be curious about the science of evil so that he can counteract it through good. He will know how to conjure up prayers for elementals and attract revelations that through his charisma will influence people's behavior. He will love peace, solitude, contemplation and the mysteries of nature. From childhood he will understand the meaning of things, not as a questioner but as an observer. He will have strong protection from the higher masters. [/sociallocker]
NITH-HAIAH: 'THE SUPERB WIZARD
For twelve long years, the young Nith-Haiah had coexisted with the sages and the magicians in the Great Temple of the Mysteries.
He had travelled a difficult road, it was enough to get an apprenticeship in the service of one of the seven Masters, and once inside his eagerness to learn led him to quickly gain the confidence and affection of his instructors.
After four years of hard learning, the young seeker had become aware of the most important secrets and was so strong in his desire to make them known to others that he often forgot fundamental things in his behavior.
-Never forget that when you make use of your power in the outside world, you must always do so selflessly, and most importantly, do so humbly and serve the needy.
These were the words of his Master, who saw how his student's eagerness to know magic and to change the world made him forget the Essential.
The day arrived that Nith-Haiah had been waiting for. He entered as an ignorant apprentice and left as a wise Master.
He could choose to stay as an instructor in the Temple or to go out into the world as a revelator of mysteries. And, he chose the latter.
He was already on his way. His only baggage was a bundle where he kept some healing ointments. That's all. He needed nothing more, for the High Priests were welcomed and cared for in every village they found along the way.
The spirit that animated him made it not take him long to reach the vicinity of a humble village. As he approached, he thought of ways to surprise them with his magic. He had to make himself known as soon as possible, and thus generate their sympathy. It was in this way that he had the idea of invoking the spirits of nature, the Elves to produce the winds, the Salamanders to provoke the fury of thunder, and the Undines to let their waters fall to earth.
Nith-Haiah had caused an unnecessary storm. The villagers could not believe their eyes and cursed at the time, for it was destroying the crops in their fields, and it meant a year of calamity and hunger.
The inexperienced magician saw with terror in his eyes all the evil he had caused, and he repented of his acts, while he remembered the words of his Master:
-Don't use your power if there is no humility in your actions.
It was true," thought the magician, "I had acted arrogantly, and now I had to rectify everything I had done.
Without anyone noticing it, the magician invoked the Gnomes, the spirits of the earth, and asked them to help him bring order to the fields. And so they did. Since that day the power of the Master was always at the service of just causes.
End