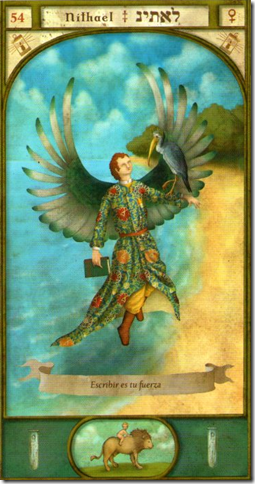 Attribute: God of the heavens.
Planet: Mercury.
Angelic Choir: Archangels.
Sefirah: Hod.
Regency hours: from 5:40 p.m. to 6 p.m.
It is invoked for:
Help us get a long life from God.
Protect us against dangers and accidents.
To have stability in employment and the preservation of proper livelihoods.
Those born under your regency:
[sociallocker id="356″]He who is born under its influence will be celebrated for all he writes and for his eloquence. He will have a great reputation, distinguished by his merits and virtues, gaining confidence to occupy important positions in both government and business. He will be destined to assume positions of command because of his broad vision to understand things and prevent all evil. He will be the very embodiment of good, order, justice and correction. With a strong personality he will be a channel for the angels on earth. He will dominate the spiritual and metaphysical fields. He will be endowed with faculties that will allow him to transform anything into reality. He will enthusiastically defend good against evil and will be discreet in making judgments and offering spiritual guidance. He will be different from childhood, standing out for his beauty, grace in walking, dressing and speaking. His soul is resplendent and his regency is of beauty and society. [/sociallocker]
Bible quote:
The Lord has established his throne in heaven;
his reign dominates over all.

Psalm 103:19
NITHAEL: 'DEFEAT OF THE USURPERS
After the death of the Great Sovereign Axis, the kingdom of Netzaliah was left without a successor, as his son Nithael, the only legitimate heir to the crown, had not yet come of age to rule.
That situation left the throne without a ruler and there were many who had ambitions to occupy it. Among these were his three cousins, who had always desired power and who, like vultures, celebrated the death of their uncle, the Sovereign Axis, for soon, very soon, they hoped to devour the "piece" that their beloved uncle had offered them on a platter.
Lu, Ci and Fer, did not even know the monarch Axis and even less his cousin Nithael. They had lived all that time in the swampy lands where the forces of evil met to protect themselves from the light, their mortal enemy.
The three brothers were competing to be the baddest, and at that moment they were again betting.
-I will prove to you that I am much more evil than you," said Lu to his brothers.
-You're wrong, Lu, because I'll be the one to prove to you that no one has yet been born who is more evil than I am," answered Ci.
-You are both gravely mistaken, your evil compared to mine is a laughing matter. I will show you who is the more evil," added Fer.
Thus the three diabolic brothers began to forge an evil plan. They had decided to take over the throne of Netzaliah and to do so they had to make the legitimate heir, the young Nithael, disappear.
To that end, the three traitors requested to be received by their cousin, as they wished to extend to him their most respectful condolences. Nithael, in consultation with his advisors, agreed to receive them.
Lu, Ci and Fer, who mastered the art of cheating and deception, played a magnificent role that touched the heart of the prince. Seeing the pain that afflicted them, Nithael asked them to stay a few days in the palace to keep him company.
The plan was coming to fruition as they had intended, and now they would have the opportunity to gain the trust of their naive cousin, and that was all they hoped to achieve.
Two days were enough for Nithael to fall into the trap. He'd just met his cousins to go hunting in the woods. He was so excited that he didn't think about the danger he was in.
Lu, Ci and Fer, took advantage of that moment to get rid of him. A sharp blow to the head made him roll on the floor. Not noticing that he was dead, those three killers threw him into an abyss. Thus they were left alone.
When they returned, they told everyone about the terrible accident suffered by their cousin and everyone believed them. All that remained was to keep a prudent time of mourning and the throne would be his.
But destiny is very wise and that which is inscribed in it cannot be taken away from us so simply by anyone, and that is what happened to the three evildoers. That throne did not belong to them, for it was not written so in the stars.
However, Nithael was the chosen one and after spending three long years begging for unknown kingdoms, one day, a great wise man revealed his destiny to him.
Nithael, who had come of age, returned to Netzaliah and claimed his royal right. The people before that evidence supported him and decided to throw out of the kingdom to the three brothers who had already three years discussing who was the most evil.
On Netzaliah they would no longer have the opportunity to prove it.
End