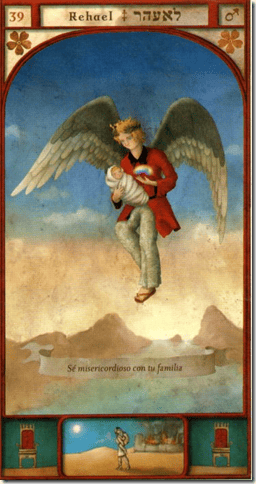 Attribute: God who welcomes sinners.
Planet: Jupiter.
Angelic Choir: Dominations.
Sephirah: Chessed.
Regency hours: from 12: 40 to 13 hours.
It is invoked for:
Maintain health and longevity.
Protect us from evil.
That we can see when we act wrong.
Influencing parental and filial love and obedience of the little ones to the older ones.
Those born under your regency:
[sociallocker id="356″]He who is born under his regency will be aware of the need for the regeneration of matter so that there may be an increase in spirituality. He will feel unselfish love for all men on earth and will regard them as children of God. He will make exceptional healings through hands, or even mentally. Also through prayers and emanation of positive thoughts. His truth will be eternal, fulfilling the Karmic mission of defeating the evil ones together with his Guardian Angel. He will always be studying means and methods to end evil. He believes in miracles and these occur to him through divine mercy. His optimism will be contagious and he will always be well with everyone. He will be elevated, strong certainly convinced that man can overcome his obstacles by using his intelligence. He will have adoration for his children and will do everything to get them back on track in life. [/sociallocker]
Bible quote:
Hear, O Lord; have mercy on me.
Be thou, Lord, my help!

Psalm 30:10
REHAEL: 'THE TRUE CURE'.
Since that tragic accident that almost cost him his life, Mario had been living like a prince. His parents wanted to make him forget what had happened and thought it would be best to buy him many toys and please him in all his wishes.
The truth is that after a few months, Marlo's room was barely able to be entered from as many gifts as he had received, and yet he didn't seem to want to forget the incident.
He was a smart kid and he knew that with that comedy he would get his parents' attention and he would get it all. That's how a boy who was appreciated by everyone became a capricious, unbearable and selfish person.
When he played with his teammates none of them accepted him with pleasure. Most of the time the toys were his and he always wanted to be the director of the game. At first they didn't think it was important, because they wanted him to be part of the gang as before the accident, but as time went by his behavior was so unsociable that nobody wanted to play with him.
One day, coinciding with the beginning of the new school year, Mario met a beautiful girl who had just moved to town and was in his same class. Immediately, it was said that he had to conquer her, since she was the most beautiful of all those he had met so far.
I'm not slow to study a plan of attack. He had to impress her and that was no problem for him. The girl, who did not know him in depth, let herself be seduced by him, but it would not take long to see that he was a conceited and proud man.
He made a fool of her and never cared for her except to show off in front of his friends.
That behavior caused the few companions he still had left to reject him. He had gone too far.
Well, what had to happen happened. Despite not being accepted, many missed him. They wondered what would happen to him. For weeks no one had heard from him.
Mario was very sick. He was suffering from severe pain and the doctors diagnosed that his kidneys were not working well and that he should have surgery as soon as possible.
Mario was very scared. He was on the operating table and the anaesthetic quickly brought him into the astral world, and from there he could see how the surgeon was trying to put an end to the evil that was afflicting him.
He didn't quite understand what was going on, but someone would explain it to him. It was a beautiful being that caught his attention.
- Scared, Mario? -asked that mysterious being.
- Where am I?. Who are you? - I answer very scared.
- You are in the astral world, the one we inhabit while we sleep, and I am the Archangel Rehael. I am here to heal you," explained the Archangel.
- But I'm already being cured, can't you see that? -The young man replied.
- Yes, that's right. He will heal your body, but he will not succeed if you do not first agree to heal your soul," said Rehael.
- And how should I do that? -I ask Mario.
- Look at these images and say what you see.
Mario saw in seconds how his behavior had generated a lot of disharmony. He felt all the harm of those he had made suffer, and said:
- I think I have been very selfish, and I understand that I have created the disease myself," replied the young man with tears in his eyes.
Suddenly he woke up and was surrounded by all his companions. He was still in the hospital, but the operation had been a success and Mario would be completely healed. But the best cure was that of his heart, which was once again beating to the rhythm of sincere love.
End