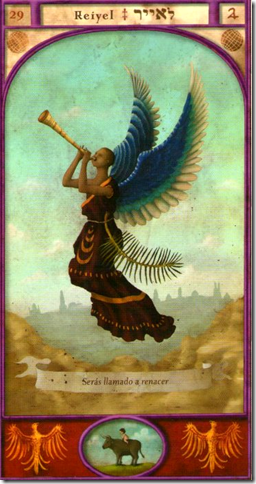 Attribute: God who helps.
Planet: Mars.
Angelic Choir: Powers.
Sephirah: Geburah.
Regency hours: from 9:20 to 9:40
It is invoked for:
Get rid of the enemies within.
Give us inspiration in prayers and speeches.
To have clarity of expression in front of the opponents.
Enhancing religious feelings and meditation.
Those born under your regency:
[sociallocker id="356″]
Evolved aspect: He will distinguish himself by his qualities and by his zeal in propagating the truth and destroying false and slanderous writings. His conduct will be exemplary; he will love truth, peace, justice, tradition, freedom and silence. He will follow the divine rules according to his level of conscience. He will lead charitable or mystical associations with his motto: of no corruption.
Your existence on earth is of a very high standard and this can be noticed when you take up the right path without knowing why you should have never strayed from it. The reward of course will be an excellent renewal of life and release from Karmic bonds. Your life is an enlightened exaltation through your spirit. You will have to be careful not to create feelings of guilt in relation to family problems, as you are all going through an evolution that has nothing to do with loss but renewal. Your home will always be clean, orderly, decorated with flowers and flavored with incense.
[/sociallocker]
Bible quote:
They conspire, they lurk;
eager to take my life,
They watch everything I do.

Psalm 56:6
REIYEL: 'UNDOING A CURSE
Many people do not believe in bewitchments, incantations, the evil eye, and one of these people was Reiyel, the Sovereign of the lands of Hesed, where abundance flourished everywhere.
But what happened to him one day made him change his mind, and that is that he himself was a victim of the black magic of an evil witch..., but let's see what happened to the Sovereign.
It was tax season and the tax collectors had already visited several villages. Reiyel was fair and according to many good people, however, the last few years had been hard, very hard, and he was forced to implement a tax law.
Not much was demanded, but not everyone looked favourably on those measures and some of the villagers criticised him.
However, those opinions never worried the King, since the collections were not for his personal gain, but to administer them throughout the kingdom. But he was concerned about the insubordination and that is why he sent for those responsible for the rebellion.
His guardians accompanied a woman of enigmatic presence who seemed unaffected by the difficulties of recent years. When she arrived at the place where he was, she told him:
-Good woman, why do you refuse to pay the tax if you know it will be divided equally among all of us? -asked the king nicely.
-Don't think you're fooling me, you're a greedy king and you're trying to enrich yourself with our efforts," she said aggressively.
-You're wrong, my coffers won't be filled by the people's efforts. My only will is to administer with justice the scarce existing resources," replied Reiyel.
Then, in an unexpected way, that mysterious woman uttered a curse in a loud voice:
-Let the blood that runs through your veins become as hard as stone if you use a single tithe from our efforts for your own benefit.
And saying this, everyone was so amazed that they didn't even stop him from leaving.
Legend has it that that year was the worst of all and that the king's coffers exhausted their funds, so he had to spend the money from the collections, and it was then that everyone remembered the curse of that malicious witch.
Reiyel was petrified, though not dead. He was in a deep trance, but could not manifest life.
They did not know how to help their king, and when they turned to the witch, no one knew how to refer to her.
But this story cannot end badly, do not worry, since the people, seeing the misfortune of their king and the poverty that was taking over the kingdom, voluntarily gave up their humble income to save him, and not only did they succeed in doing so, but that act of love put an end to the witch's curse, and King Reiyel returned to true life again.
End