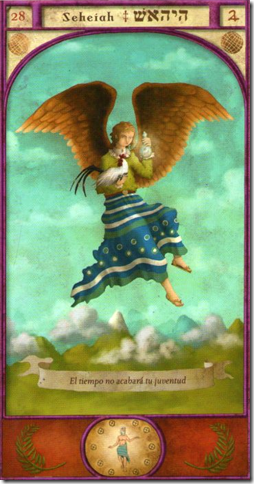 Attribute: God who cures disease.
Planet: Mars.
Angelic Choir: Powers.
Sephirah: Geburah.
Regency hours: from 9 to 9:20 a.m.
It is invoked for:
Protect us against fire, accidents and illness.
To protect us from evil and ruin in business.
Those born under your regency:
[sociallocker id="356″]Evolved aspect: he will have good sense and will manifest himself in life with prudence and wisdom. He will resist everything with dignity and everything in his life will work perfectly. Authentic and true, he always manages to get out of the most chaotic situations thanks to the bright ideas that suddenly arise. His spiritual strength is intimately linked to the angels, even without knowing it, he helps to improve human suffering. He will always have a word of optimism to help people, especially in families in any situation of insecurity because he is always consciously or unconsciously in tune with the divine sources. He has forebodings concerning travel and it will always be good to hear him. [/sociallocker]
Bible quote:
My God, don't walk away from me;
Oh, my God, come help me soon.

Psalm 71:12
SEHEIAH: 'THE PROTECTING SPIRIT
Many are the people who complain in life of having bad luck, nothing works out for them, destiny seems to have conspired to punish them with its rigorous justice, but the case that I am going to tell you, you will undoubtedly think that it is curious, since it tells the story of a boy who was pursued by bad luck, and yet, at the last moment, he always came out victorious from the nefarious trance. But judge for yourselves...
Jupimar had always been an independent boy. He liked to make his own decisions, even if they led him to face death as he did that day.
For a long time, he had wondered what it was like to ride that wonderful bike his friend had just bought. If he borrowed it, maybe he would know," he thought, "and neither short nor lazy, he went in search of it, who, with a very bad will and a little bit of shame, left it to him, but not before warning him not to run too much.
But Jupimar had a lot to recommend him. If he expected me to listen to him, he was ready.
I take the bike and immediately look for the sensation he was so worried about. I accelerate and accelerate more and more. It was definitely worth the experience. But everything was planned, and when I took a curve the bike skidded and the accident was fatal.
Everyone feared the worst, since on his way out he had the misfortune to be thrown by a truck coming in the opposite direction.
However, when no one was counting on his life, Jupimar made a miraculous recovery.
It was the third time in the year that he was unharmed by fatal accidents. The first time was a fire, and he was finally rescued in time when he was already considered to be suffocated. The second time, he was practically crushed by a ruined building that had collapsed, but again fortune accompanied him, as he was trapped by a hole, which prevented him from being buried, and now that accident.
No one could explain the reason and many came to think I had seven lives like cats. Others thought, maybe he had a pact with the devil, but the only one who knew the answer was himself, because he had just met her.
While sleeping on his way to the hospital, Jupimar had a visit in the dream world. A being of light approached him, and to his surprise the young man asked:
- Who are you and where am I?
– I am the Archangel Seheiah and I protect men from the rigours of destiny, and you are in the World of Desire," explained the being of light.
- So I'm dead? -anguished question Jupimar.
- No, you're not, because I've saved you," the Archangel replied in a friendly way.
- And why did you do it? Other people die in accidents and nobody saves them.
- You are right, but in the Book of the Debit and Credit of those people I find no reason to intercede for them.
- So you are at my service because I have acted to save the lives of others by my behavior in other lives?
- I questioned the young Jupimar in great surprise.
- I see you've understood, and now you must return. But first remember one thing, do not risk your life in vain, for it is too precious to waste.
Thanks to that meeting, Jupimar would stop behaving recklessly, and he always tried to lend a hand to the Archangel by helping the needy.
End