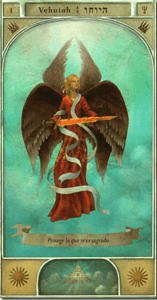 Choir: Seraphim, Angels in the service of Kether-Volunteer.
Attribute: God elevated above all things.
Latin name: Deus Exaltator.
Meaning: The God who exalts.
Archangel: Metatron
Zodiac: Aries
Bible quote:
I cry out to the Lord at the top of my voice,
and from his holy mountain he answers me. Selah
Psalm 3:4
What it gives:
To have a powerful Executive and Transforming will.
To be the number one, the protagonist of a singular feat. To win in something singular and difficult.
Sagacity to discover the deceptions. Lucidity for yourself.
Free us from anger and turbulence.
To obtain divine enlightenment.
Lesson: Use the superabundant energies with which they are counted to help men glimpse the Way. Overcome individuality, anger and rage.
Sefirah: Keter.
Regency hours: from 0 to 0.20 hours
It is invoked for:
Undertake and execute the most difficult things.
Become a warrior of the spiritual fire.
Those born under your regency:
[sociallocker id="356″]
He is extremely curious and is always in search of the truth. Inside he is balanced and knows that he has a great potential to heal through his hands. He has great protection at his astral level and is interested in the most diverse matters. He has a tendency to find various loves, but it takes time to break away from his old love. He faces everything with optimism and worries about his friends. He adores a close family. He is gifted with a subtle spirituality and great cunning. He will execute the most difficult tasks with ease, learning about science and the arts. Inventor and creative, he is an inspired artist. He is in the business of being a forerunner of a new world. He has an aptitude for writing and oratory, so he will have a propensity for political life. He has good manners and his work will be rewarded and recognized. He likes competitions, always disputing with generosity but always beating all the records. He understands that difficult moments happen so that there is growth. He likes social life and being possessed of a strong magnetism and charisma he will be able to frequent the high society.
This angel helps to overcome obstacles. It's the light that shows us where the problem is. Its appearance (casual or solicited) sets a new course for us. Vehuiah spreads optimism around us whenever we are willing to start some work. Family unity, reunions among friends, the development of new ideas and the courage to transcend any setback are the goods this angel offers. Good manners are like honey that delights this creature of heaven.
[/sociallocker]
Vehuiah: "A great record"
The race was about to start. The muscles of the athletes were in tension, waiting only for the judge of the competition to give the start.
It was the most important test of those championships, and the public did not want to miss the show that had aroused so much expectation.
Everyone expected to see an explosion of power. Among the participants were the best runners from all the provinces, and the winner of that race would represent his nation in the great international games.
To this end, young Vehuiah had been working very hard over the last few years. All his efforts had one goal, to reach the national team. And there he was, competing among the best. He was proud of everything he had achieved. Being in the final was important, but not important enough, he had to win.
The departure was quick. In a few meters I was already a body ahead of the rest of the participants. That gave him more strength and his feet seemed to fly.
How close he was to the finish line. Just one last effort and he would have made it. But Vehuiah did not count on the unexpected. When he was only a few meters away from the finish line, his body lost its balance and he could not control it. It took him a second to regain his position. I try, I try to win that damn second, but it was too late. The finish line faded from her desperate gaze. Vehuiah could not contain his anger and his exhausted, breathless body faded down the runway. He didn't feel the slightest interest in stopping this from happening.
Since that day, the young athlete had not regained his confidence. His fierce will had disappeared and he was plunged into a deep depression that was exhausting all his energies.
He was so indignant that when something upset him, he would burst into a rage. Those who had followed him in the past, now barely dared to greet him, were afraid of him.
Time was passing and Vehuiah was getting more and more abandoned. He didn't take care of his food and refused to play sports. But one day, an unfortunate accident came to change his life once again.
As usual, at that hour of the morning, Vehuiah was still in bed. From his room and feeling sleepy, he thought he heard a voice calling for help. Called by curiosity, he looked out of the window, and then he saw her. It was his mother and she was trapped by a fire curtain.
Oh, my God! -I scream.
Without being very aware of what he was doing, Vehuiah put on his boots and ran away. He knew his mother's life was at his feet. He could not lose a single second, for he was competing, this time, against the fire.
The village was about five kilometers away and he had to get there before the flames reached the place where his mother was. His feet ran as they had never run before. If someone had timed for sure would have beaten a record, but that did not matter in the least, just one thing put wings at his feet, the love he felt for his mother.
Vehuiah managed to get there in time. From that day on, the young man would be a hero and that singular feat would be commented on for a long time.
The young racer got back his will and began to work with special illusion. Many other records were waiting for him on his way.
End