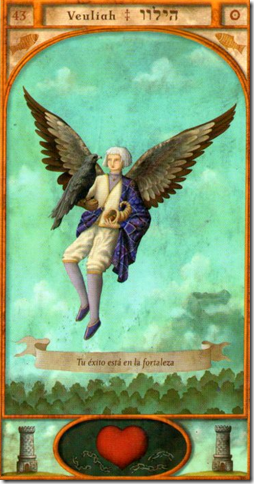 Attribute: God as the dominant king.
Planet: Sun.
Angelic Choir: Principalities.
Sephirah: Tiferet.
Regency hours: from 2pm to 2pm: 8pm.
It is invoked for:
Destroy our inner enemies, such as fears.
Freedom from slavery and vices.
To have peace and inner prosperity.
Getting favors from important people.
To succeed in just causes.
Protection and prosperity in companies.
Those born under your regency:
[sociallocker id="356″]He tends to behave with integrity, will be successful in his work, gaining trust for services rendered. His influence will be gifted among famous, well-known and powerful people, gaining prestige among them. He will use modern ideas and strategic actions to consolidate his position. He will handle himself with prudence, avoiding obstacles, carefully observing each path before taking a step, and will have a lot of knowledge acquired through work. He will be noble, sincere, altruistic in his relationships. He will conquer his own place by his self-confidence, good humor, without wasting energy in intimate conflicts. [/sociallocker]
Bible quote:
Why do you reject me, Lord?
Why do you hide your face from me?

Psalm 88:14
VEULIAH: 'THE MOST PROSPEROUS COMPANY
King Daleth had just turned 84 years old, and in truth, he was too tired to continue ruling. He was no longer the ardent young man who, at 21, was appointed monarch of Hesed, the land of plenty.
His vitality had faded as the days went by, and he now knew that he must hand over the scepter of power to his heirs.
But what seemed so simple was not so simple for him. He knew the nature of his children and knew that if he left the crown in the hands of one of them the others would dispute that right.
With that concern, the sovereign Daleth summoned the Seven Elders and sought in them the voice of wisdom that they had demonstrated during all those years.
-Wise Counselors, I want you to be the first to know my willingness to abandon this scepter. Physical forces betray me and hardly respond to me when I need them. My cycle in this carnal world is coming to an end and it is time for one of my children to inherit the throne and take my place.
The king's words were well thought out and the wise men realized it.
-You are right, Your Majesty, but that does not seem to be your concern," said one of the elders.
-It is true, my friends, that my concern is to know whom I choose as my heir," explained the king.
Everyone understood the cause that grieved the heart of the noble king, and moved by it, the wisest of the Elders, said:
-Maybe there's a solution, Your Majesty. Make him take part in a test, and the one who succeeds will be the one chosen for such a high mission," explained the old man.
- Yes," exclaimed the king with some euphoria, "it might be a good idea.
Without delaying it for the time being, everyone started thinking about an effective test, and then...
-I got it," cried the old man who had just been enlightened. The crown will go to the one who manages to present us with the most prosperous enterprise.
So it was that the four sons set to work in the elaboration of the company that would give more fruits.
They had three months to do so, at the end of which they had to report back to their father.
The time passed quickly and the expected day arrived. The four candidates presented themselves punctually to their father, who told them:
-Let's see, what do you have to offer me?.
-Father, your son Arien has discovered new lands and put them under your power; they are the richest lands we have ever known," said one of his sons.
-Beloved father, your son Canciah has discovered new deposits of water and with them our lands will be more fertile," said another of the sons.
-Father, your son Libraiah, has discovered the way to fly, and with it our kingdom will be able to expand.
-Father your son Veuliah, he can only offer you his services, his ability to work -expressed the last of the children-.
The king, after hearing them, met again with the seven elders and after a brief exchange of opinions, all agreed on the candidate to be elected.
King Daleth gathered his four sons and told them:
-After consulting the wisdom of the Elders, and unanimously, it is my will that Veuliah shall be the next king of Hesed. This land is already large enough to desire new continents, is rich in water and does not intend to expand its borders. Instead, it needs strong, hard-working hands to cultivate and manage the abundant seeds we possess.
Thus it was that Veuliah would rule the kingdom of Hese, and throughout his years of sovereignty, he brought prosperity to all his enterprises.
End