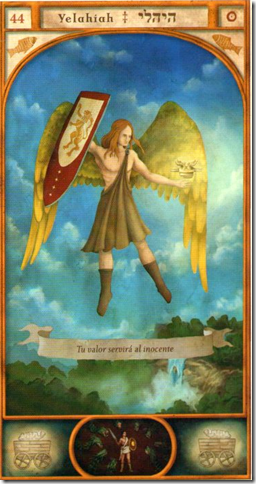 Attribute: Eternal God.
Planet: Sun.
Angelic Choir: Principalities.
Sephirah: Tiferet.
Regency hours: from 14:20 to 14: 40 hours.
It is invoked for:
Protecting judges to win in court proceedings.
Have the courage to face adversity.
Protect us against weapons or firearms.
Those born under your regency:
[sociallocker id="356″]He will love travel, be educated and all his endeavors will succeed. He will be famous for his acts of talent and courage. He will fight to keep traditions alive and will be an investigator of historical facts and will clarify dark situations within history. He will easily have memories of previous incarnations that will help him to understand the dark parts of history. He is generous in his work and will always give everyone a chance, for he believes only that through work an ideal is conquered. He will never let himself be dominated by discouragement and nothing will prevent him from achieving his goals. He will be safe, skillful and unable to risk his reputation in suspicious situations, letting everything unfold spontaneously, will always show his love in a constructive way and will defend his dreams which will be related to family, place of living and cultural values. He will be respected and admired and will be able to find solutions to all problems. [/sociallocker]
Bible quote:
Lord, accept the offering that comes from my lips;
show me your judgments.

Psalm 119:108
YLAHIAH: 'CALLING THE THIEVES
It wasn't the first time this happened, and the neighborhood began to feel real fear. In just one month they had been robbed five times in different houses, and they were already wondering when it would be their turn?
The latest events had become the only topic of conversation in every home in the neighbourhood, in the bar, in the shops, in the hairdresser's, even at school, and sometimes the discussions came to confront those who were holding it. This was the case with Samiel and Ylahiah.
It happened that Samiel had been one of the victims of the robberies and he was very hurt because the thieves had taken something of great value to him.
But that disappointment was not shared by Ylahiah, and that opinion made his mood worse, which he violently exploited by reaching out to his lifelong friend.
-I see that you are happy about what happened, I always knew that you didn't like the fact that I had a computer and you didn't," said the grieving Samiel.
-How can you think such a thing? -Do you think I'm so mean? -Ylahiah replied very upset.
-So how come you're defending the thieves? -Samiel challenged him violently.
-Did you forget what they taught us in school? -I did. -Ylahiah questioned him.
-What do you mean? We have been taught many things at school," Samiel asked, interestedly.
-Remember that Christ said to men: "Do not store up for yourselves treasures on earth, where moth and rust consume them, and where thieves break in and steal", Ylahiah sweetly replied.
-I remember that we studied that passage," said his friend, "but what does this have to do with my computer being stolen?
-You don't understand, you've never wanted to share it with others. Sometimes you have been asked for help and you have refused, excusing yourself that it would be spoiled. All you did was defend yourself from us. Your zeal for possessing what others do not have, that is why you have been robbed," explained Ylahiah.
-How dare you insult me like that? I thought you were my friend and it turns out that all you are is envious. Leave me alone.
It was evident that Samiel had not accepted Ylahiah's suggestion.
Time passed, and the presence of the guardians of order seemed to drive away the thieves.
Samiel, who had bought another computer, met his ex-friend Ylahiah one day and wanted to make fun of his theories.
-What about your teachings now? As you know, I have a new computer and I still don't want to share it. Now we have guardians, why don't they steal it from me?
Samiel's words did not want to be heard by Ylahiah, for he understood that it would be a waste of time.
But life is wise and knows how to put each one in his place, and so it did with Samiel.
He had just come home to find his parents saddened. It didn't take long to find out that the burglars had broken into her house, but the strange thing about it turned out that they had only taken her computer.
From that day Samiel gained wisdom, and also friends, for he followed to the letter the words which Allah had conveyed to him.
End