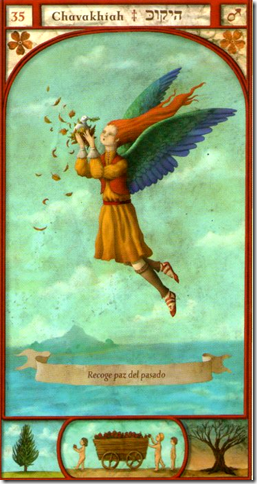 Attribute: God who gives joy.
Planet: Jupiter.
Angelic Choir: Dominations.
Sephirah: Chessed.
Regency hours: from 11:20 to 11: 40 hours
It is invoked for:
Reconciliations between family members.
Obtain forgiveness for offenses.
The fair division of inheritance.
To have a good relationship between parents and children.
Those born under your regency:
[sociallocker id="356″]He will be a great contributor to social welfare, often at the expense of personal interests. He will love living in peace with everyone and seeing all people reconciled. His morals will always be under rigid control, and he will be able to suppress his own feelings. With a practical mind he will be admired for the way he solves any problem. He will always be attentive to details, will speak in a discreet and pleasant manner, never using force to make himself understood. His emotional well-being will depend on the approval of others in social life. He will have wealth and will help to promote issues related to medicine and spirituality. Your daily work will be hard and full of novelties, and you should be careful not to be too demanding and austere with yourself. He will have an immense dislike for extravagant attitudes or social scandals, will probably be physically attractive and will not worry about finding his soul mate.
Bible quote:
I love the Lord
because he hears my pleading voice.

Psalm 116:1
CHAVAKIAH: 'THE SPIRIT OF RECONCILIATION
Those who knew them said that they were born for each other. And anyone who had the opportunity to know them would come to the same opinion, and that is that from a very young age He and Iah felt something very special that led them to a friendship that many envied.
They complemented each other and understood each other so well that no one ever saw them argue.
When one of them started something, he always did it thinking of the other and that was the secret that allowed them to live as an example of harmony during all those years.
Over time, they grew and the experiences that each one acquired were quickly shared with their partner.
But the day came when Iah had to leave town. He was a little older than Him, and had to go to the city to continue his studies.
They had been together so long that they never thought that one day they would have to separate.
No, they were not prepared for that, at least that's what he thought. He saw a deep emptiness born in his chest when Iah told him his projects.
-You can't leave me Iah, you should wait for me, I only have a year left," he begged his friend and inseparable companion.
-But El, you don't understand, I'll lose a year and you know my parents have sacrificed for me to get to college. You can't ask me to do that -I explain Iah suffering greatly-.
-I see that your studies are more important than I am," he said indignantly.
- Do you really believe that? You're unfair to me. I thought you were my best friend, but I see that you only care about your - Iah offended and hurt -.
-You talk about friendship. A true friend does not abandon another for ambition. You want to be the best, you've always wanted it.
Those words were very harsh and He knew it. In the depths of His heart He was not feeling what His words expressed, and yet He did not prevent them from being said.
Iah deeply offended felt her tears burning with thick drops in her eyes and walked away from Him, letting her go without apologizing for her harsh words.
He had been left alone, that unalterable friendship vanished in just seconds.
He couldn't go home in that state and decided to look for an isolated place where he was immersed in his thoughts.
It would not be for long, however, as a voice unexpectedly interrupted him:
-Boy, why are you suffering? Nothing prevents you from being happy, since you are not yourself," said that mysterious character.
He was very surprised, because he thought he was alone in that hidden corner. And besides, how did that stranger know what was happening to him?
-Please don't be offended, but I'm not in the habit of talking to strangers," he replied. But anyway, how do you know I'm suffering, who are you? -I ask finally called out of curiosity.
-My name is Chavakiah and I am the spirit of reconciliation," I answered plainly.
- The spirit of reconciliation? -expressed admiration for him-.
-Boy, why did you choose the hardest path that only leads to suffering? You have in your hands the possibility of changing things. If you have offended Iah, ask her for forgiveness and reconcile with her. Isn't that what your heart desires most? -said the spirit.
But He could hardly hear His voice any more, for He was running in haste in search of Yah. He was going to ask her forgiveness and reconcile with her, for he understood that evil could only be changed by good, and he had it in his hands.
End